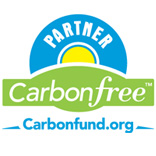 We believe in responsibility, and we recognize that in addition to respecting our customers and clients, we also need to respect Mother Earth. Being a "green" company is not just a slogan or a marketing ploy, it means actively looking at everything we do and seeking greater efficiency, less waste, and a positive impact on the world around us. With global awareness of the harm corporations and individuals have done to the environment at critical mass, we've changed every aspect of our operations to give the Earth its due TLC.

Our transformation into the jolly green giant we are today involved three critical phases: cleaning up our operations, bringing our customers and clients on board, and partnering with a carbon offset organization to help fund environmental projects around the globe. With focus and determination, every individual can make a difference and reverse the damage being done to the environment. We only have one planet, and we're committed to keeping it a green place to groove.
Cleaning Up House
We recognize that keeping the planet clean starts with cleaning up our own house. We've implemented an aggressive policy of limiting our impact on the environment in every aspect of our operations. From integrating technological advances that increase efficiency and minimize waste, to making sure our employees reuse and recycle, we're green – system wide.
Friends & Neighbors
When you've got something you're excited about, you want to share it with your friends. We're passionate about the green changes we're making, and we're getting our clients and customers involved. We accomplish this by both choosing to work with eco-friendly partners, and by building environment consciousness into the very services we provide.
Green certified server host
Eco-friendly travel services
Paperless will call ticketing and order placement
clients can work with us to balance their event emissions to make their earth-shattering shows earth-saving
Getting By With A Little Help From Our Friends
While our goal is to have absolutely zero impact on the environment, we are aware that no business can be truly 100% green. That's why we've partnered with Carbonfund.org to offset any remaining environmental impact. Carbonfund.org is one of the world's top carbon offset organizations, funding projects around the globe.
Carbon emissions offsets down to the metric pound
Diverse projects such as:

Paperless will call ticketing and order placement
Energy Efficiency – reduces existing energy use, much of which comes from coal, oil, and natural gas
Reforestation – absorbs existing CO2 emissions, which helps to reduce the excess greenhouse gases that humans have added to the atmosphere