How-to: Sell Tickets
New to Eventopia? We make it easy for you to post your event, promote it, and (most importantly) get paid. Read on for step-by-step instructions on selling tickets to your new event. We've included screenshots to help you along–if you get lost look for this icon:
1. You'll need to start with creating a personal account. Head to our
homepage
, and click the "Get Started" button on our top banner. [See image below]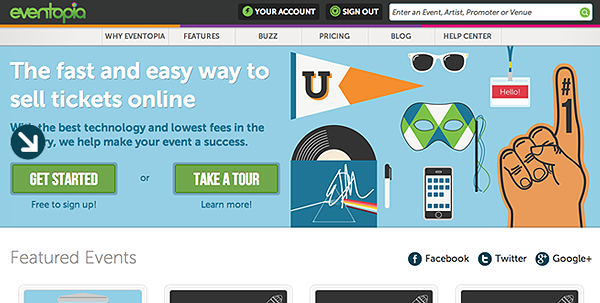 2. Follow the instructions in our "Create an Account" pop-up to create an account using your Facebook profile.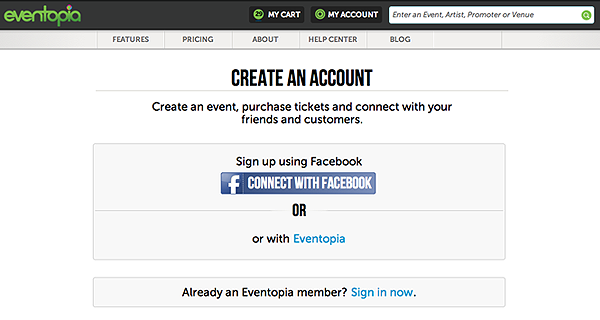 3. Congratulations! You've created a personal account. Using this account, you can both purchase and sign-up to sell tickets. Sign up your first event from your Dashboard. Just click the "Start Selling" banner in the directly underneath your Recent Purchases section.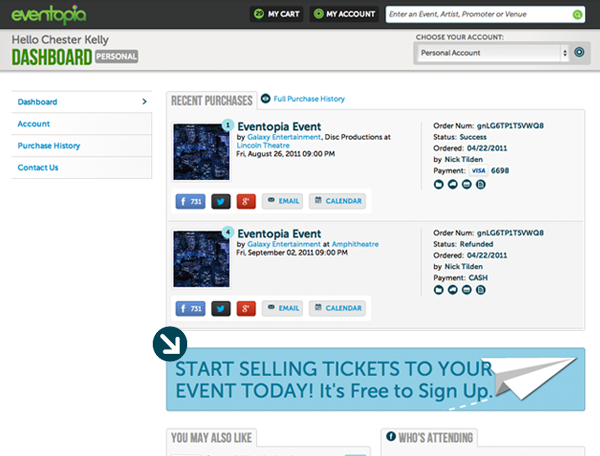 4. You're now ready to create your first event! Check out our detailed chart below for a quick guide to filling out an event form:

1. Start with the "Basic Info" tab. Give your event a name, date and time, and location. 2. Next, select your ticket type under "Ticket Manager". Give your ticket types names (whatever you like!) and set prices. For more customized features, explore the icons to the right of each ticket type. You can also modify Event Settings, use our Shipping Manager, or set-up your event to receive donations by using the links to the right of the "Ticket Manager" tab. 3. Once you've completed your event basics, add more detail. You can add additional organizers. Then list your performers (if applicable) under "Talent." 4. Create a custom URL so your tickets are easy to find, and maximize SEO traffic by giving your event tags. Then upload Event related images with your "Event Image Gallery". 5. When you're satisfied with your event details and information, click "Publish My Event" OR click "Save My Event" to archive a draft of your event for later.
Comments Off

on How-to: Sell Tickets